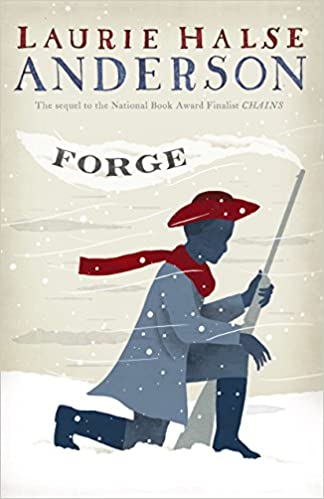 This is the second book in the Seeds of America series by Laure Halse Anderson. For this story, readers follow the perspective of Curzon, the traveling companion and friend of Isabel from the first book. This book focuses much more on actual wartime fighting and the wartime experience, as Curzon reluctantly re-enlists.
Anderson again tackles the dueling ideas of revolutionary freedom and freedom from slavery as Curzon wades through his own wavering status while fighting for the independent United States. While this is the second book in the series, it also stands on its own.
About the Book
From the publisher, "Blistering winds. Bitter cold. And the hope of a new future.
The Patriot Army was shaped and strengthened by the desperate circumstances of the Valley Forge winter. This is where Curzon the boy becomes Curzon the young man. In addition to the hardships of soldiering, he lives with the fear of discovery, for he is an escaped slave passing for free.
And then there is Isabel, who is also at Valley Forge—against her will. She and Curzon have to sort out the tangled threads of their friendship while figuring out what stands between the two of them and true freedom."
Other Books in "Historical Fiction and Nonfiction about the American Revolution"
Disclosure of Material Connection: Some of the links in the page above are "affiliate links." This means if you click on the link and purchase the item, I will receive an affiliate commission. I am disclosing this in accordance with the Federal Trade Commission's
16 CFR, Part 255
: "Guides Concerning the Use of Endorsements and Testimonials in Advertising."