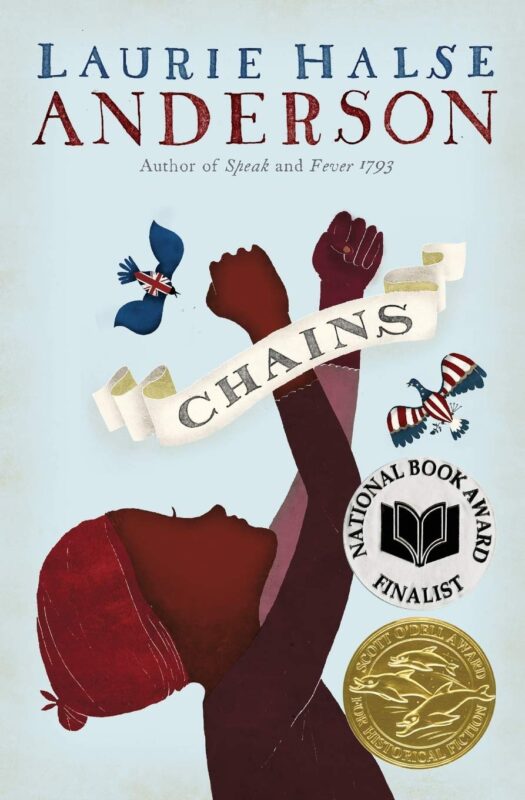 (Upper Middle-grade reading level - realistic depiction of slavery and violence)
Set in New York City on the eve of the American Revolution, Chains details the story of two sisters - Isabel and Ruth. Both were supposed to be freed when their owner died, however, they were denied their freedom by the owner's brother and sold to a brutal couple - the Locktons. Isabel's story is intertwined with history as Isabel finds herself spying on the Loyalist Locktons to help her friend Curzon - a fellow enslaved person in support of the Patriots.
The complexity and cruelty of slavery is written with compelling clarity as Isabel is betrayed again and again by others. The realities of Revolutionary life are also made clear as Anderson weaves in historical details in a way that reads as natural and purposeful. With an incredibly compelling plot, Chains is a page-turner that breaks beyond the genre. By writing a story from the perspective of an enslaved girl in New York City, Anderson redefined the genre of "revolutionary war novel."
About the Book
From the publisher, "As the Revolutionary War begins, thirteen-year-old Isabel wages her own fight…for freedom. Promised freedom upon the death of their owner, she and her sister, Ruth, in a cruel twist of fate become the property of a malicious New York City couple, the Locktons, who have no sympathy for the American Revolution and even less for Ruth and Isabel.
When Isabel meets Curzon, a slave with ties to the Patriots, he encourages her to spy on her owners, who know details of British plans for invasion. She is reluctant at first, but when the unthinkable happens to Ruth, Isabel realizes her loyalty is available to the bidder who can provide her with freedom."
Other Books in "Historical Fiction and Nonfiction about the American Revolution"
Disclosure of Material Connection: Some of the links in the page above are "affiliate links." This means if you click on the link and purchase the item, I will receive an affiliate commission. I am disclosing this in accordance with the Federal Trade Commission's
16 CFR, Part 255
: "Guides Concerning the Use of Endorsements and Testimonials in Advertising."