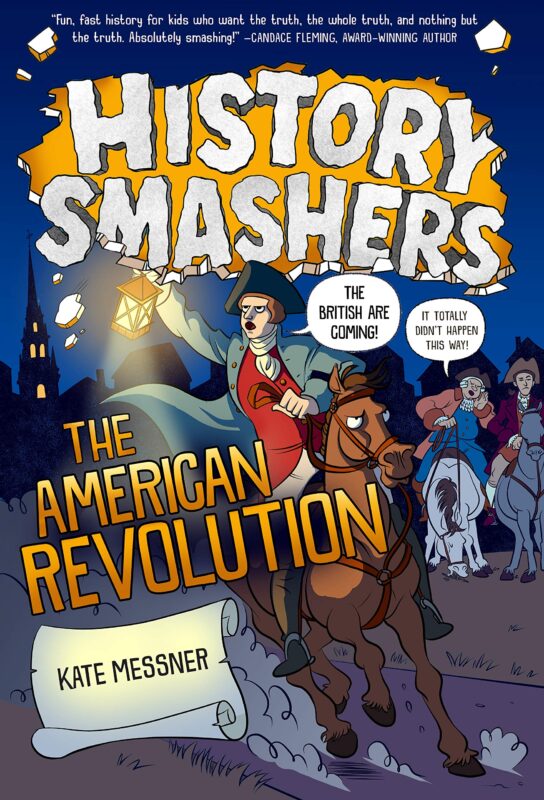 I was so excited to see that there was a History Smashers book about the American Revolution. These books take history and write it with a hybrid of text, images, and cartoons that allow students to SEE this history they're reading about. Further, these books often point out important information that traditional textbooks leave out. For instance, with this book, Messner starts right out with a land acknowledgement. Within the first chapter, she points to the hypocrisy of the Boston Tea Party, where the colonists dressed up as Native Americans to argue for their liberty... while also on land that colonists had taken from Native Americans. She then goes on to discuss the problems with Longfellow's poem regarding Paul Revere. Still, the text is not weighed down by this information, rather, it makes for a much more engaging read. Altogether, History Smashers: The American Revolution, includes a plethora of information dispelling myths about the Revolution while also conveying a more accurate version of the history
About the Book
From the publisher, "On April 18, 1775, Paul Revere rode through Lexington and Concord, Massachusetts, shouting, "The British are coming!" to start the American Revolution.RIGHT?
WRONG! Paul Revere made it to Lexington, but before he could complete his mission, he was captured!
The truth is, dozens of Patriots rode around warning people about the Redcoats' plans that night. It was actually a man named Samuel Prescott who succeeded, alerting townspeople in Lexington and then moving on to Concord. But the Revolutionary War didn't officially start for more than a year after Prescott's ride. No joke."
Other Books in "Historical Fiction and Nonfiction about the American Revolution"
Disclosure of Material Connection: Some of the links in the page above are "affiliate links." This means if you click on the link and purchase the item, I will receive an affiliate commission. I am disclosing this in accordance with the Federal Trade Commission's
16 CFR, Part 255
: "Guides Concerning the Use of Endorsements and Testimonials in Advertising."