This book traces the stories of the enslaved Africans who were owned by four of our founding fathers – George Washington, Thomas Jefferson, James Madison, and Andrew Jackson. I really enjoyed the stories in this book. Davis brings humanity to the people who surrounded our founding fathers. He includes fantastic details within those stories that really remove the barriers surrounding those men. Did you know that Dolly Madison didn't really save George Washington's painting (which was a replica anyway)? A White House slave named Paul Jennings is that forgotten hero of that story.  He would go on to be a co-conspirator in an attempted slave rebellion in the nation's capital.
There are dozens of stories like this in Davis's book. They really caused me to reframe my understanding of the United States at that moment in history. Each story could be combined with any general discussion of the founding fathers.
More info →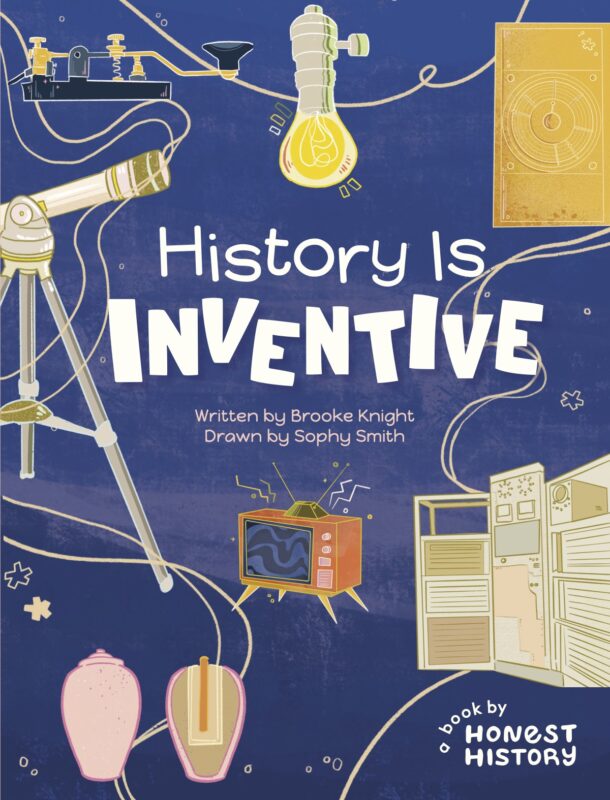 Have you seen Honest History pop up on your Instagram feed? Their tagline is, "a magazine for young historians." I know that if this had existed when I was a kid, I would have read every issue cover to cover!
When I saw that a book had been released by Honest History I immediately requested a preview. History is Inventive does a deeper dive into the stories of several of the famous inventors and really lays out the complexity of that invention. (Spoiler ______ invented the _______ is never the whole story.) Knight pulls from a wide breadth of history and picks topics that will interest a wide variety of children. Surgery? Makeup? The telescope? Alternating current? All are discussed and each passage includes unique details that I've not seen elsewhere. If anything, this book will make kids want to know more about many of the topics, and do some more investigation on their own!
I'm also a sucker for well done graphic design and the layout of this book is quite appealing also. This book is perfect for a curious kid.
More info →