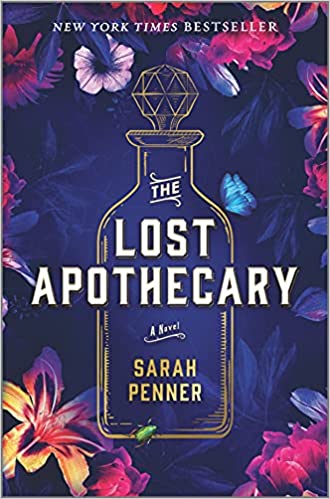 When Caroline Parcewell discovers that her husband has cheated on her after 10 years of marriage, she decided to go on their anniversary trip alone - to London. In an attempt to explore the historical researcher side of her life that she had left behind years before, she decides to go along on a little historical adventure that involves finding objects that have appeared from the historical muck of the city. Her discovery leads her towards a path of intriguing historical research and self-discovery.
Although it's probably technically classified as historical fiction, half of the book takes place within a historical era and half of the book takes place in the modern day. This book is probably the closest I might get to reading a "romance" novel. It's actually about the rejection of romance, and finding one's self - independent of any romantic partner. (I'm not sure what that says about me.) My only criticism of this book is that it is a very "tidy" story. Caroline is able to uncover all the secrets through her research. I wish historical research worked this way, but often times, that's just not the case. At one point she finds an abandoned location that had not been touch for over 100 years - in London! Given the value of London real estate these days, I found that particular plot point rather unlikely. However, if you have dreams of spending your days immersed in historical research, this book is a cozy read.
About the Book
A forgotten history. A secret network of women. A legacy of poison and revenge. Welcome to The Lost Apothecary…
Hidden in the depths of eighteenth-century London, a secret apothecary shop caters to an unusual kind of clientele. Women across the city whisper of a mysterious figure named Nella who sells well-disguised poisons to use against the oppressive men in their lives. But the apothecary's fate is jeopardized when her newest patron, a precocious twelve-year-old, makes a fatal mistake, sparking a string of consequences that echo through the centuries.
Meanwhile in present-day London, aspiring historian Caroline Parcewell spends her tenth wedding anniversary alone, running from her own demons. When she stumbles upon a clue to the unsolved apothecary murders that haunted London two hundred years ago, her life collides with the apothecary's in a stunning twist of fate—and not everyone will survive.
With crackling suspense, unforgettable characters and searing insight, The Lost Apothecary is a subversive and intoxicating debut novel of secrets, vengeance and the remarkable ways women can save each other despite the barrier of time.
Other Books in "Reads and Reviews - December 2021"
Disclosure of Material Connection: Some of the links in the page above are "affiliate links." This means if you click on the link and purchase the item, I will receive an affiliate commission. I am disclosing this in accordance with the Federal Trade Commission's
16 CFR, Part 255
: "Guides Concerning the Use of Endorsements and Testimonials in Advertising."