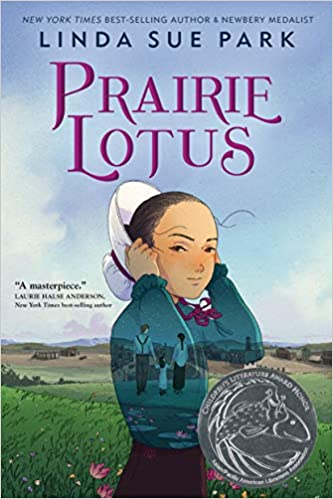 (Middle-Grade reading level - racism, mentions a lynching, an assault - however, all is dealt with appropriately)
This was a book I wished I had as a child. A "Little House on the Praire" styled book, but with a more worldly point of view. Hanna is a half-Chinese girl trying to make her way with her father in the Dakota Territory. She's an aspiring dressmaker who just wants the opportunity to attend school and be accepted by the all-white community. Written by Linda Sue Park, the text and story are expertly crafted at the perfect level for middle school readers. There are big and complex ideas framed with simple language.
The history of this time is embedded within the story without being too dark or needlessly laborious. Hanna is an incredibly likable and sympathetic character. The frustrations she faces from family, racism, and the social mores of the time are real and muddy. None of the characters fit into a neat box. This book deserves just as much love as the Wilder series, and I would love to see several more written.
About the Book
From the publisher,
"Prairie Lotus is a powerful, touching, multilayered book about a girl determined to fit in and realize her dreams: getting an education, becoming a dressmaker in her father's shop, and making at least one friend. Acclaimed, award-winning author Linda Sue Park has placed a young half-Asian girl, Hanna, in a small town in America's heartland, in 1880. Hanna's adjustment to her new surroundings, which primarily means negotiating the townspeople's almost unanimous prejudice against Asians, is at the heart of the story. Narrated by Hanna, the novel has poignant moments yet sparkles with humor, introducing a captivating heroine whose wry, observant voice will resonate with readers."
Other Books in "Reads and Reviews - August 2021"
Disclosure of Material Connection: Some of the links in the page above are "affiliate links." This means if you click on the link and purchase the item, I will receive an affiliate commission. I am disclosing this in accordance with the Federal Trade Commission's
16 CFR, Part 255
: "Guides Concerning the Use of Endorsements and Testimonials in Advertising."