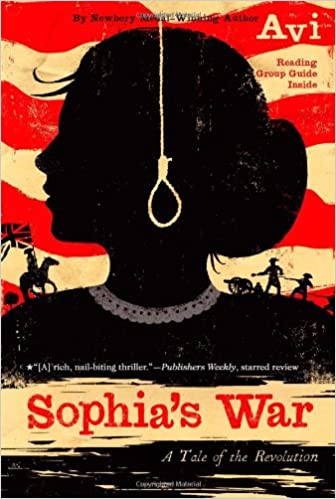 (Middle-Grade reading level - most of the fighting takes place far away, however, Sophia does witness the hanging of Nathan Hale at the beginning of the story.)
I've been a fan of Avi ever since I devoured the True Confessions of Charlotte Doyle when I was a kid. In Sophia's war, Sophia's brother, a soldier, goes missing after the Battle of Brooklyn. Sophia befriends a British lieutenant, Andre, who comes to New York City and is stationed in her home. She hopes she'll find help in him locating her brother, however, her brother languishes and dies on a British prison ship. Her brother's death inspires Sophia to become a spy embedded with the British Army, and she uncovers a crucial piece of information that will change the course of the war.
The pace of Avi's writing style will hook middle-grade readers and keep them engaged. This book incorporates tons of historical information, including discussions of the prison ships for Patriot soldiers in New York City, the betrayal of Benedict Arnold, the quartering of soldiers, and the general experience of life during wartime. It definitely belongs in any middle-grade history teacher's classroom library.
More info →