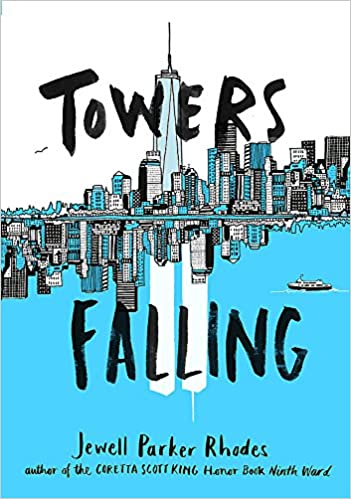 (Young Middle Grade - No content concerns)
Towers Falling is a book for younger readers. Rhodes took the story of 9/11 and made it appropriate for middle-grade students by having it told from the perspective of a girl who was learning about the event through school. Deja is in fifth grade and she was born after 9/11. Her family has recently been unsheltered and Deja has become protective and jaded by the experience of eviction. She is suspicious of her classmates despite their friendliness - Ben a new student from Arizona and Sabeen a girl from the city who shares about her Muslim culture. Ultimately Deja opens up to them and redefines her understanding of family and familial connections.
I would suggest this book for sensitive students who also struggle with conceptual understandings of history. The simplistic approach is gentle and unassuming and would attract those who require that approach to the topic.
About the Book
From the publisher, "When her fifth-grade teacher hints that a series of lessons about home and community will culminate with one big answer about two tall towers once visible outside their classroom window, Dèja can't help but feel confused. She sets off on a journey of discovery, with new friends Ben and Sabeen by her side. But just as she gets closer to answering big questions about who she is, what America means, and how communities can grow (and heal), she uncovers new questions, too. Like, why does Pop get so angry when she brings up anything about the towers?
Award-winning author Jewell Parker Rhodes tells a powerful story about young people who weren't alive to witness this defining moment in history, but begin to realize how much it colors their every day."
Other Books in "Historical Fiction and 9/11"
Disclosure of Material Connection: Some of the links in the page above are "affiliate links." This means if you click on the link and purchase the item, I will receive an affiliate commission. I am disclosing this in accordance with the Federal Trade Commission's
16 CFR, Part 255
: "Guides Concerning the Use of Endorsements and Testimonials in Advertising."